So this version of my 2011
WS100
race report will be more of a play-by-play, blow-by-blow, mile-my-mile account that captures my experiences, thoughts, commentary, etc. I've got another report outlined where I hope to capture my analysis of the race, lessons learned, etc. Bottom line result is that I finished 92d place in 23hr, 09min, 37sec, earning me the famous sterling silver WS belt buckle.
For those that might happen to read this, suffice it to say to Western States has dominated my little running career for the past decade; it was a huge, personal, emotional event for me. Saw my first WS on local KCRA-TV (Sacramento, CA) when I was 14 yrs old. Saw that silver buckle, and for whatever strange, deluded reason, it stuck in my head that I was going to do "that" someday. Then around 1998, after nailing the sub-3hr marathon at
Rocket City
(1995) and going to Boston (100
th
Running in 1996), I started thinking about WS again, and got to planning my first ultra (Pine Mtn, GA). It took until 2002 to actually get to Western the first time. I had a huge meltdown just before the river, and I limped to a 29 hour finish; it was a humbling experience. I knew I would be back to have another go. By then my first child was 18mos old and Kirsten pregnant with our second; I transitioned from active duty to civilian world, and finally got settled down some. In 2006 I started tackling more ultras and building experience and long-term base when I moved to Huntsville. Tried my hand at the Arkansas Traveller in 2007, suffered a DNF at 68 miles. Went to the Pinhoti 100 in my backyard and did well (27:20) but not great. Then went back Arkansas and had my breakthrough (21:45). I knew I was ready to try WS again. Directly or indirectly, I recognize for the past 10 years that every running step, every rep in the weight room, every excruciating session on the massage table, every WOD with my CrossFit brothers and sisters, all of it has been pointed at this 24-hour space of time. So not to spin the tale too much, but 25 years after I saw that belt buckle, having that longing fester in the back of my head for so long,
it is done
. It is my swan song. I slew the beast. I may well go to other 100s and other ultras just because the locations sound fun (Colorado, Hawaii, Florida, Maryland, and more), but I am done "racing" them, that I do recognize down in the gut.
My crew for this year (and past two 100s) is the most excellent
Allan Besselink
of the
SmartLife Institute
. Based out of Austin, TX, I first met Allan a decade ago after moving to San Antonio and beginning the build-up for my first 100 (WS). Allan is a superb physical therapist (he might call it physiotherapist), USATF- and USAT-certified coach, and an Ironman-Lake Placid finisher himself. Most importantly, a great friend that I trust absolutely with my well-being during these crazy races.
Allan and I flew into Sacramento on Wednesday for the race, staying with my Dad near my hometown of Marysville, CA. We had planned to make the informal clinic at Squaw Valley that afternoon, but wisely opted to skip it in order to have some downtime at my Dad's place. Good opportunity to mix up all my race fuel (Hammer Nutrition's
Perpetuem
), take a short run at nearby Hammon Grove Park on the Yuba River (100deg temps, last-minute heat training), and get a relaxing meal.
On Thursday we headed up to Squaw Valley, then took the tram ride to High Camp (8200') to watch the flag-raising ceremony near Emigrant Pass. Not quite able to make the monument due to snow, we nonetheless were treated to a great little ceremony up there from Toni Rossmann and Mo Livermore, two the race's founders. Allan captures the essence of the ceremony much better
over on his site
. The afternoon held clinics for foot care, crewing instructions, briefings on ultrarunning medical research, and WS veterans panel in the evening (not to mention a lunch break in the Olympic Village, a cool place to explore on its own).
Friday morning was race check-in, and gathering of the monumental amount of WS race swag! Backpack, very nice jackets, book bag from Udo's Oil, race tech shirt, and Moeben tossed in arm sleeves, calf sleeves and a neck gaiter, all with the WS logo screened. Great haul! Of course, we bought more stuff in the WS gift store (it all goes to a non-profit, right?) Had some lunch then took in the pre-race briefing in the afternoon. Once back in the hotel in Truckee, I forced myself to stop last-minute preps around 7:30pm, turning on the TV and vegging on a movie until going to sleep around 9pm.
Race morning we woke 0315, left hotel 0400, and were at Squaw 0420. Got race # (bib), went to bathroom, drank some Perpetuem, then headed outside. Good gracious was I nervous at the starting line. Had enough wits about me to turn around, thank Allan profusely, then walk into the crowded starting area. This is it! 9 years I waited to get another chance. How would it go in the next 12+ hours of daylight? What unknown variables would play "Murphy" today? How would all the training work today? So many thoughts in my head, had to clear them out and just focus on the countdown to the start, calm myself just a bit. BANG! Gun goes off and we are away!
The High Country, the Snow, and the Near-Panic
The old joke is that we sprint like mad for 50m then start walking. That is a lie. We actually make it about 200m before the long climb up towards Squaw Peak begins and the long power-hiking strides from most runners kicks in. So grind away we go, climbing up, up, and up towards Squaw's High Camp at 8200' (vs. 6200' at the start). I've got a bottle in each hand plus a third stowed on my back in the pouch of the Nathan racing vest I am wearing; one bottle has water, the other two are empty. I just concentrated on powerful yet relaxed power-hike and let the climb flow by.
The Escarpment aid station, normally located right at 8700' before we head over the ridge, is actually
below
High Camp this time, just can't get a vehicle any higher in the slick, icy snow. So got all three bottles filled up here, figured about 12-13mi to the next aid station on the far side at Talbot Campground. And so the runners started into the snow, while climbing for the Escarpment itself at 8700' and about 4mi into the race. Managed to take a few seconds to turn around, face east and catch the sunrise and wonderful view back towards Lake Tahoe and the southern stretch of the High Sierras. Crested the ridge and dropped into a bowl on the back side of Squaw, thus beginning the long, cruel, snowy descent towards Talbot and French Meadows Reservoir.
The first 1/2mi of the descent is good single track with mercifully little snow, but that is short-lived as our challenge [adventure? ;-)] was about to begin in earnest. The course ran up onto the snow bank and we hung on for the ride! Not too bad at first; footing is fairly solid and no suncups yet to make ankles work. Following the yellow flagging on the trees and staked into the snow, the line of runners gingerly strided their way over the trail and it would down and around. At some places we would come across old, abandoned ski runs, so the course would stretch 200-300m across a diagonal snow face, covered with a thin coat of ice and still in the shadow of Squaw Peak behind us. There we had to be very careful, trying to move with purpose across the face but not go sliding off down the slope! We slipped, we fell, our water bottles in the hand often providing the cushion necessary to pop back up and keep rolling line drunken fools across the snow.
Needless to say, it was challenging to keep a purposeful pace on the course and actually
stay on the course!
As we got past 5-6mi mark, the runners started to spread out, sometimes in small packs but sometimes you were solo. The flagging could take sharp turns to the left or right, had to pay attention to them and your footing simultaneously. I got off-course once or twice, fortunately had other runners give me a shout and keep me in line; fortunately I was able to return the favor a few other times during the race. The "sun cups" (examples from the web
here
and
here
) started in earnest in the faces that caught sunlight, making footing almost funny. The big toe on my left foot is starting to hurt a bit, probably never quite healed properly
from the fracture at the Ouachita 50M
. Instead of just being mostly along for the ride, it has been flexing and gripping down in the shoes trying to help me get purchase the snow. In addition, I can feel some inflammation in the left hip flexor area (Psoas? pectineus? Sartorius? Who knows). And there are some hot spots forming around the heels of both feet. Good gracious!
Down around 8mi the snow depth started to decrease and get soft and slushy in places, causing running feet to sink down and get shoes and feet good and wet. Hard to describe the conditions, fortunately Gary Wang of realendurance.com was on doing duty as safety patrol this year, and shot some great video around 8-9mi mark and posted to YouTube, look for me about 7:00 mark of the first video. In addition, Gary posted a whole slew of photos on FaceBook (
here
and
here
).
Around 9mi mark we took a sharp left turn off the historic WS course and began this year's snow-route down towards
French Meadows Reservoir
. The trail turned into an old 4WD jeep road as it switch-backed thru the snow down through the forest. The hard-packed snow is gone now, we are running through soft and/or slushy white stuff, sinking in 2-3-4" on each stride. But alas, by now I am experiencing a combination of small problems:
1.
Hot spots forming on both feet, back towards the heels but not in places I had
ever
experienced blisters before, not with these or any shoes.
2.
Some muscle in left hip flexor area is starting to sing
3.
The left (formerly fractured) big toe is sore
4.
Legs just generally deadened some early on (snow and altitude?)
All of it together is starting to get me concerned. It is too early to have all this happening!
Patches of mud start to appear, but we are watching footing and seeking solid snow to run on. Feet are soaked now, plus getting into muddy sections, but nearly out of the snow. The last insult was about a mile above Talbot A/S (~Mile 14) where we came to a rushing creek, the same one that eventually is the main feeder of French Meadows Reservoir. The a/s volunteers (God bless them) had cut a set of snow steps to help us down into the creek and put up a rope to hold onto. But it knee-deep and we went from the snow bank, across 50' of ice-cold, snow-melt water, then back up onto snow-covered trail on the far side!
Talbot A/S (#2) came about 5-10min later (can't quite remember). I still had plenty of water (should have not bothered with all three bottles at the Escarpment), so I blew right through and kept running. Now we are out on good jeep road, still lots of snow patches and mud but runnable. My feet were cold and plenty numb, I kept trucking in an effort to warm them up and perhaps even start the drying process. Accordingly, my stride wasn't exactly pretty there for a while. But down we went on the jeep road about of Talbot CG towards the reservoir. We had done nearly of all of the descent to the reservoir by the time we got past Talbot, so the course was flat-to-rolling for the next few miles (I had anticipated gentle descent all the way to Poppy). We were besides the main creek feeding the reservoir, but could not really feel any descent. Alas, by now I am starting to get concerned and can feel a minor panic attack in the back of the brain. My legs are not responding all that well, can feel a pair of hot spots, that left hip flexor area is really starting to sing loudly, etc. I knew the snow section would be challenging, but had not anticipated a combo of problems this early on. Altogether, this is NOT an auspicious beginning to the biggest 100-miler of my life! Time targets were on, but the blisters and hip flexor really had me wondering; hot spots generally only get worse, and inflammation in the hip means I'm gonna start taking Aleve to keep it under control, not the way to make kidneys happy in the middle of long ultra!
So I took 5min to make a pitstop around 18mi. During the squat I took some deep breaths, stared deeply across the reservoir, calmed myself, and repeated the mantra I have mentioned to others often enough: every ultra will have low points, you just gotta wait, keep running, and it'll come back to you. So I pulled my shorts back up (literally and figuratively), then got back on the course. It'll come back, just manage your feet, your hip, your hydration, your calories, your electrolytes, etc. and it'll come back.
After 30-40min of running out of Talbot, made a right turn onto a paved road and made the 1.25mi gentle climb towards the Poppy A/S at Mile 20. At Poppy I had a drop bag waiting for me with Perpetuem flasks and a fresh pair of socks. Tape job on my feet was totally soaking and came up when the socks came off, so probably spent upwards of 10min in the chair drying off my feet, checking the hot spots, applying new layers of tape to the heels, etc. then pulling on fresh Injinji socks. Fortunately, my shoes were mostly dried out by now, so pulling them back on did not immediately soak my socks and feet again. Had run all the way from Escarpment on two bottles (third one full of water was just extra weight on my back), so left a bottle here (that turned out to be a minor mistake) and headed out. The course picks up the new Poppy Trail, winding along the northern shore of French Meadows for 3-4mi. Near the western end, we leave the main trail and climb up to Duncan A/S at 23.5mi. So while this year's snow course brought us down a snowy descent to the reservoir, it all meant climbing
up
to Duncan; effectively, another intermediate-level canyon to tackle vs being up on the ridges.
At Duncan, I slugged down a 4-5 cups of GU Brew (a pattern I would repeat at every aid station through the race, sometimes taking 1-2 S-caps as well). As you can see from the photo, the sun is out now, starting to warm up a bit but not bad. I watered up pretty good, both bottles, spent little time there, heading out on the 7.5mi stretch to the Mosquito A/S (replaced Robinson Flat this year). The course wound it's way over some old jeep road and freshly-cut trail, emerging onto Mosquito Ridge Rd for a mile descent, crossing Duncan Creek on the road (vs normal years on the trail, it is running
way too fast
to go through on foot safely). A steady climb out of Duncan Canyon on the road for a bit, then split onto some seldom-used trails, winding back and forth. I had no idea where I was, had never been in this area. About a mile down the trail, I see Tim Twietmeyer running back the opposite direction, roll of flagging hanging out of his pocket. He just smiles to us, says "no problem, just re-marking some turns" and keeps going. 'The Man' right there, out taking care of business all day long. The trail is fairly exposed, so after an hour I had drunk both my bottles dry (thus, probably should have hung onto the third bottle). The approach to Mosquito is an 800' climb over about 2mi, and I covered that piece dry. Did not try to run it hard, settled into a good power-hike and ran small pieces here and there; saving the climbing legs for late afternoon and the night. About a ½ mile out there stood Tropical John greeting the runners, always that wry smile "love ya, support ya, gotta be an idiot for running this race" look on his face! Got to the aid station and immediately started sucking down fluids, my slight dehydration now compounding the heel hot-spots and inflamed hip tendon. This was the first medical check, and the scale said 172lbs, down from 179lbs on the wrist band and 181lbs pre-race this morning. The medical folks let me go, but I knew I needed to catch up on fluids.
At Mosquito I opted to make a shoe and sock change from the drop bag. My previous tape job from Poppy was holding well, but took some time to add a layer of tape over both heels, get on a fresh pair of new featherweight Injinji socks, and a dry pair of Inov-8 Flyroc 310 shoes (I ran in another pair of the same model from start to here). Interesting note on the socks: they say never do a race with something untested, but I had a brand-new pair of those Injinji socks, had never worn the newer featherweight version, and it worked out great all day. Best darn socks I ever ran in, esp. for hot weather. Slipped on another pair at Foresthill that carried me all the way to the finish line).
Out of Mosquito we went basically backwards up the course towards Robinson Flat, supposed to cover two miles along newly-cut trail before dropping down the regular course and returning to Miller's Defeat. On the way out you passed right by that aid station, so rather cruel to be directed outbound by the a/s captain while watching folks run into the station coming down the road. The RD has promised us some more snow up now that we were back up on the ridges. But while there were big patches of it all through that section, it was really not a factor. I had been a touch concerned of slipping on fresh shoes only to get them soaked again in the snow, had even considered delaying the shoe change until Last Chance (43mi and definitely well out of the snow), but no need for unease. About a 1/2mi out of the aid station I got off course for a few seconds and two folks blindly followed this idiot, but something didn't smell right. So I stopped, panned right, and sure enough saw the flagging. Crashed through the underbrush 50m and got back on the trail. We eventually came onto an old jeep road with a gentle climb, so power-hiked much of that, all exposed up on the ridgeline. The course made a hard left turn, right nasty little descent to the regular course along N-44, and left turn again with a slight descent towards Millers Defeat. Ran that piece with chatting with two fine gents from the safety patrol, who were in turn trying to chat with a spoiled little rich-girl, trust-fund baby living in Marin (must be nice).
Downhill Running, the Canyons, and the Comeback
Watered up good in Miller's Defeat and immediately headed out. Now we are coming out of the high country with a vengeance, as it is steady descent for the new 10mi. Starting here, I began passing people regularly through the remainder of the race; the only time I was passed again was on the climb past Hwy 49 in the dark by the gentlemen who eventually finished right ahead of me in 91
st
place. Now the Aleve is starting to work on my hip, the tape job on my heals is holding fine and hot spots are calming down, and the big toe can just be along for the ride and not grip into the snow. Now I can muster these legs for the descents to come, where my strongest running will occur. Uneventful stretch down to Dusty Corners, but
Glenn Tachiyama
was taking photos and
posted
a keeper of me: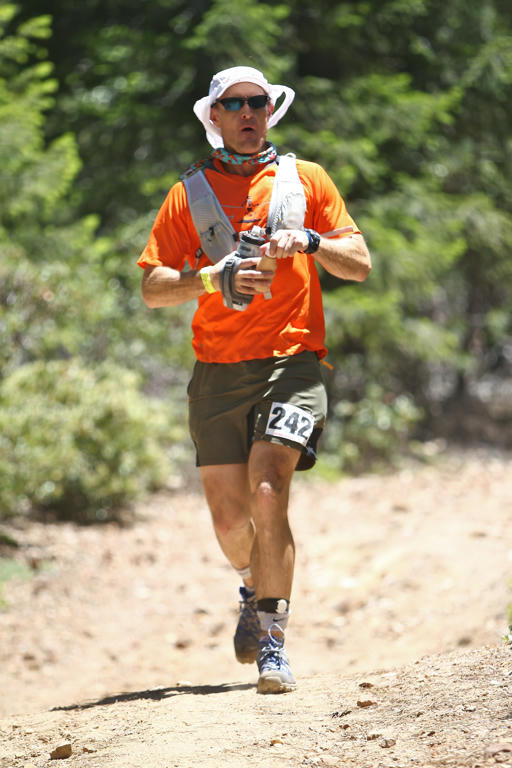 After the Dusty Corners a/s we took a hard right onto the Pucker Point section of the trail. This stretch was first used in the 2002 race (my first trip to WS). Great section of trail, offers tremendous views way down into forks feeding the American River, can hear the roar of the water from over 2000' above it. Actually need to be mindful and pay attention to the trail and not too much on the scenery! Wound through the section for 3+ miles, enjoying every step of it, because now I
DO
have my legs back under me. The occasional Aleve is doing its job, the hot spots are covered with tape that is holding and thus are dealt with, and the legs are working, even in a fairly flat section like this one. I am starting to chew up the miles like my training has prepped me for.
Came out of Pucker Point area, turned right and headed down to the Last Chance settlement. Stepped onto the scale and saw 177lbs. Whew! Weight back up to where it should be, pounding all these fluids helped get me back. Downed several cups of GUBrew, filled both bottles (one in the hand, one on the back), grabbed some extra Perp from the drop bag, and blew out of there. Because for me, the race is now starting. I won't say I am the best downhill runner in the world, or the best climber. But by God, I've got the skills, strength, and cajones to make these canyons work for me!
Tightened down the racing vest, making it good and snug for the big descent to Swinging Bridge. Made a smooth run out of Last Chance, then hit the trail with earnest. (The sign warning folks of "Precipitous" trail always make me chuckle). I immediately cruised by a half-dozen runners, earning some "go for it!" kudos along with one sourpuss muttering "someone is in a hurry" [no, that dude did NOT ever catch me]. During the Memorial Day training runs, I ran this descent at about 95% effort right behind Matt Keyes the whole way; only my wits kept me from going full-tilt 100% that day, because a crash could prove fatal! Today I ran the descent to the bridge hard, I figure about 80% effort. Smooth and steady, chewing up the clock but saving some reserves for the Calif St section; still a long way to go. Love running down this thing, so let it flow and smiled broadly, because now I was beginning to feel "the zone". Faster than expected came Swinging Bridge, so I downed my bottle and swapped real quick while making the climb to Devil's Thumb. Took about 35min, so a real good split there. Temps probably around 85deg, no more than 90deg. I supposed all the heat runs and sauna sessions the past month might be considered overkill, for I had absolutely no problems climbing out of there. Hard and steady power-hike, never ran a step. Kept my inner-monologue going: focus, climb, focus, climb, water, climb, calories, climb, do not stop, steady breathing, do not stop, keep the pressure on, and find the top!
Crested the final rise, saw the Thumb, and rolled into the a/s. Another quick step onto the scale, 177lbs, no problem. Opened up my drop bag to discover that my "cold bags" with two Perp flasks were no longer cold; had gotten rather cooked instead! The ice they started into was not hot water, so just left the flasks there and relied on the tubes of Perp Solids I had with me as backups. Steve Harrold was there to greet me, good man. Asked about my fluids, about my calories, and if I was peeing. Then gave a wry smile and in a low voice said "you are on pace to do it!" And right he was, I had to smile in agreement. By now I am totally focused, the low points of the morning are long past, have nailed the first canyon and know in my gut that I'll do fine through the next two. Filled my bottles again, filled my cap with ice, grabbed a traditional Devil's Thumb popsicle (only sugar I ate the whole race, which tasted lovely), and headed out.
Walked a bit to eat the popsicle and let the fluids in my stomach settle. Then picked up the run and began the gentle descent past the Deadwood pump and the cemetery. Re-tightened the vest and dropped over the edge past the cemetery for the long, winding descent to El Dorado Creek. By now it is 50mi into the race (though emotionally I consider Foresthill to be the halfway point). Lovely afternoon sun starting to come down to the west as we descend into the canyon. Passed several more folks on the way down, made a pee stop just past the pine meadow the marks halfway between Deadwood and the creek (thank goodness for that, had not peed in a while). Kept it about 80% effort down the trail, enjoying it immensely and letting the details sink in.
Crossed over El Dorado creek, downed 4-5 cups of fluids and a pair of S-caps, took as much ice as they could spare into my cap, and began the long climb to Michigan Bluff. An hour is the target based on training weekend, think I did it in 65min (splits out of El Dorado were not recorded except for about first 20-25 folks through there). Again, heat was never a factor. Just ground that sucker down, step by step, barely did any running at all. Finally crested out and picked up a good jog into the aid station, I think Allan captured a video of it somewhere? So yes, finally saw my crew for the first time. Good site, glad to know someone is looking out for me today!
Only stopped for fluids and some S-caps. Met another gent that I had run with at the training weekend. He walked out of MB with me for a bit, talking leaders and the snow up high. But had to politely cut him off: "Dude, I really do not want to talk about or even think about the snow, OK?" He nodded and smiled knowingly, gave me a slap on the ass and hearty 'GO' as I picked up the jog and headed out of MB. Moved steadily through this stretch, mostly old dirt roads. It was only a day later that I realized I didn't even stop to enjoy the bikini girls that always work the MB aid station! A gentle climb up into the ridgeline again, stayed at a power-hike and saved my legs. Then the hard left turn off the dirt roads and began the descent into Volcano Canyon. Lots of short switchbacks down into here, a relatively technical section by WS standards (benign compared to trails back home). Crossed over the creek at the bottom, no rope to aid the crossing (kind of odd, was one there for the training weekend). Creek went up to my knees before I slipped on a rock and went in up to my waist! Oh well, splashed out of there and began the power-hike climb towards Bath Rd. Came to the sign from the Auburn Running Co saying "Aid Station ¼ mile ahead". That's typical ultra bullshit, it was ½ mile! OK by me, I just kept up the hike, check my watch and knew I was in great shape. Emerged onto Bath Rd, emptied my bottles, downed a few cups of GUBrew. Then, almost entirely for emotional reasons, I ran the whole climb up to Foresthill Rd. I wanted to do it as a 'gut check' to prove to myself, right then and there, I had all the emotional and physical readiness necessary to come out of FH standing erect and ready to roll down Calif St. So up I went, step by step, slowly but steadily running up that road for nearly a mile before seeing that heavenly green street sign that says "Foresthill Road".
Full smile going now, a left turn and gentle descent to the school. Looked at my watch, not watch 7pm. I almost can't believe it, feeling solid and cruising into FH over an hour ahead of my 2002 split. About halfway down the road I see a young kids, mid-20s, who asks "Josh?" and there is pacer, David Walker. We linked up over the WS100 website on Thurs and here he is, ready-to-roll. We cruise into FH, he splits off to link up with Allan and get my chair on the far end. I am pretty fired up now. Aid station announcer calls out my name and number, says I am the lone runner from Alabama this year. I respond with a full-throated, Forrest Gump-style "Al-a-BAMA!" before rolling to the scale. Medical check is good, 177lbs and obviously lucid. Immediately leave the aid station and pop a squat in the chair Allan has prepped for me. David starts ripping off my shoes and socks. We opt to dry off and re-tape both heels, slide on a fresh pair of the Injinji featherweight socks, swap shoes to the Sportiva Crossblades. Lose the ice hat and Oakleys I have been with all day. Pick up headlamps, prescription night glasses (green-shaded lenses, works wonders under low light conditions), and spare headlamps. Take a deep breath, take account of all the necessary gear, and note that it is 7:15pm. Make a goal of Green Gate by midnight (Allan says sounds like a country-western song), then head out. Perhaps 10min total in Foresthill.
California St, the RaceTrack, and Trying Not to do Anything Stupid
Steady cruise down the road, turn onto Calif St then off the pavement and over the edge onto the trail again. I'm working out the fine details with Dave on the run here. I'll take the lead and set the pace, he swings in back and pushes me from behind; I've got legs to go so want to go fairly strong on the descents to come. Tell him I won't necessarily do a lot of talking, that he can chat me up as much or as little as he likes, though I may not exactly hold up my end of the conversation. And away we go towards Cal-1.
About 40min to Cal-1, some good steady running through there. Legs are feeling very good for this stage of a 100, no complaints. I have almost completely forgotten about the morning's episodes, wholly focused on the miles ahead of me. Topped off my one hand-bottle, purposefully left the second empty to save on weight, and blew right out of there. Dave is just awesome, a bang-up job pacing all night. About 100m out he scoops the bottle out of my hand, sprints ahead, gets it filled, takes care of himself, makes sure I'm good, then escorts me out the a/s ricky-tick. I was pushing as it was, he made me go out of there on turbo mode.
Lots more good running out of Cal-1. Walked the climbs, didn't even try to run those, but worked the descents tenaciously. Ran dry on fluids about 15min out; a risk I took, but no sweat, temps are cooling down and it won't be a factor tonight. Judging the remaining daylight close now, want to make Cal-2 on the twilight. Sure enough, got there in about 70min. I am smiling again, can't believe I just made this a/s without lights. Last time I was fading by this point but trying to save the race; now I am plenty of good running left in me, almost jumping out of my skin with excitement. At Cal-2 we pull on the headlamps, do a quick systems check with those and spare flashlights, then head out. Dave has never seen the Calif St section, and I am familiar with it, so I stay in the lead and just roll out of there. This new headlamp (Fenix 10 that I bought from ZombieRunner) is amazing! I had quickly tested it out a few days ago, but dang this sucker is bright! And only on the high setting; got a whole other level to go if needed. Lots of short switchbacks here, quickly winding down to the American River, that glorious sound now right below. It is a great feeling, because the sound of that river is the last one you have to cross! We reached the river, emerged from the single-track onto a jeep road, then began that right nasty little climb up towards Cal-3 (Fords Bar). While I ran that in training, tonight I am content to power-hike and conserve the legs for now. We finally crested that sucker and made a gentle descent towards the aid station. Drank some fluids, topped off one bottle (other is still empty), and headed for the river crossing.
About 3mi of single-track along the river, then emerged out onto a jeep road. Dave pulls up alongside and we run side-by-side now. I am feeling talkative now. This is the site of my 2002 melt-down, just shy of the river crossing. About to bonk badly and far beyond my experience, in hindsight I probably wasn't
emotionally
ready to handle that kind of low point back then. I related to Dave my previous experience, then could just smile and yell out "BUT NOT TONIGHT!" as I put more pressure on the pace and rolled steady. Rounded a bend of the river and a mile out is the crossing, all lit up and looking beautiful. I am gonna reach it before 11pm, I can't believe it! Everything is just going so well now, the "flow" is one and I am feeling it. Saw three other runners ahead of us approaching the river, kicked in the burners and blew by them so as not to wait in line for the crossing boats. Med check went fine, 177lbs and looking good. Swallowed a gut full of fluids anticipating a few minutes in the boats and a few minutes on the far side changing shoes, then stepped down to the boats.
Rolled my right ankle stepping down the rocky steps, ouch! The river was running hard from the snow melt; I can say pretty unequivocally that NO ONE was walking across this year, at Ruck-a-Chuck or probably anywhere else. I can also say without hesitation that the volunteers running the boats were absolutely awesome! From the time I stepped off the scale, put on the life-vest, got on the boat, crossed over with my pacer, and stepped off, it was 2min elapsed time. And never got my feet wet. Hopped out on the far end, looked around in a bit of disbelief at how easy that went. (Facchino Photography has a
number of shots of me
at the crossing, just the proofs). The aid station volunteers handed me my drop bag, where I had planned a change of shoes and socks. But just handed it back to them, grabbed David and we got the heck out of there in a hurry!
Now I am fighting the excitement. I just crossed over the river and have a full head of steam of to go, can't believe it! We power-walked the steep pitch out of the river for about 200-300m until the dirt road shallows out a bit. Then out of emotional, gut-check needs, I picked up the run and started grinding away that climb to Green Gate. David pulled up alongside, chatted at me a bit, but mostly head was down and concentrating on the road. I needed to
run
that climb to show myself that I could do this, that I had the necessary power remaining to reach out and take that silver buckle. And so up we went, passing 2-3 other folks, seeing pacers/crew coming down to the river crossing and rooting us on. After a bit, we hear the generators and see the lights of Green Gate. And holy smokes, it's only 11pm (a full hour ahead of my split goal). Allan is there, so I grabbed some Caffe Late Perpetuem, pull on a fresh shirt for the last 20mi (
Team Red, White, & Blue
shirt), and roll right out of there. David took a break at this point, planning to rejoin me at Hwy49 crossing, so I was solo again.
The American River Canyon, Running Solo in the Night, and Forcing the Pace
The 5mi stretch between GG and Auburn Lake Trails was uneventful. The leg generally descends over the first two miles, then goes back up a few hundred feet, but hugging the canyon wall above the American River the whole time. I mostly talked to myself (out loud) through here, checking on status of my body, putting down fluids, sucking in some calories, checking my mental states, making small prayers to God for clarity of mind and safety. It was in this leg and the leg to Browns Bar in 2002 I was at the lowest of points. Reduced to a mere power-walk, bonking badly, each step sending painful shocks through my shot-up quads. But not this year; this go-round I was running smoothly and gently. Mindful of the surroundings and the sounds, keeping myself focused and keeping steady pressure on the pace.
Came to ALT in about 75min, took some ice-water but no food and kept rolling. Saw the bobbing lights of other runners and pacers. Then I stepped in a small hole on the trail, rolled my ankle, and went crashing down, wham! What the heck just happened? Quickly popped up, checked myself and my gear. And this is what's great about ultrarunning, even big-ticket events like Western: two dudes on the other side the small ravine stopped, called out "You OK?". They waited a few seconds, then called again, where I finally acknowledged, told them I was good, urged them to keep going. How cool is that? Think many Ironman competitor on the bike or run would have stopped for me? I was up and rolling down the trail within 30 seconds.
The trail opens comes out of the trees in several places above the river, hugging a contour line and winding in-out of the canyons's feeder creeks, fingers, and draws. In those open spots you can see the stars and the lights above Auburn, feeling the miles glide by under your feet. The relentless rhythm of the running stride, inexorable and powerful, taking me towards the finish and my hopes and goals. It was through here in 2002 I felt most alone; realizing later that I was never alone, not then and certainly not tonight, feeling His calming presence on me, keeping me safe and steady.
Got to Browns Bar (90mi) in about 65min, pace sped up significantly from prior leg to ALT. This station is run by local Hashers, but I just smiled at the beer offering and kept on trucking. The next leg has a ½ mile descent right down to the river on a rugged, technical piece of trail. By now, a small hint of fatigue is creeping into the legs, for I simply couldn't go rolling down that piece as balls-out as earlier; too technical and couldn't quite muster the zap in my legs to go hopping down it in a hurry. It was my first indication that I would have to carefully meter out my energy in final two hours of the race, budgeting to blow it all right after Robie Pt. But made up some ground on the dirt road down at the river, running steadily if not with a little speed. Then came the nasty single-track ascent up to Hwy 49. I flat-out attacked this sucker, mentally willing myself to run as much as possible, grinding up, up, up through the rocks and tree roots. As with Bath Rd and climb to GG, I needed to push this hard, an emotional gut-check on myself. Just kept telling myself to focus, climb, focus, climb. Do not let up the pressure, do not step to get a deep breath, just go up this sucker and find the highway.
And sure enough, the highway crossing came. Med check went fine at 178lbs. Allan handed me one last caffeinated gel to keep mental alertness up; David there to pace me right to the track. 21hr20min elapsed, meaning 2hr40min to go 6.5mi and make the dream happen. It is so close now, but also several hard-hitting stretches of trail to go yet, so must stay focused, focused. Allan grabs me, says something about mental game, but I know I am only half-listening now; the inexorable pull of the trail is just to the left, where I need to be going, getting on the run. And so David and I went, power-hiking up that cruel little climb, then blessedly emerging on the meadow called Pointed Rocks. Picked up a smooth run again, bore to the right, and take a few moments to mentally prep myself for the last descent, a winding and (typically) fun decline following a creek bed back down towards the American River. We are mixed in with about 7-8 other folks now, runners and pacers, headlamps bobbing all over the place. Did some passing, but we mostly just tried to spread out, else the competing light beams can screw you up a bit.
The Finish
Out pops the trail onto the historical
No Hands Bridge
, lit up like Christmas Tree for us. As I turned away from the aid station table, I weaved across the bridge just a touch before catching myself and commanding new mental focus. I urge David to be mindful of the moment, crossing No Hands in the dark is an event to remember! I can't believe I am crossing this thing in the dark! Heck, I could walk it in from here and make it! But no, I am not going out that way. In the midst of the race, when I got to FH it was becoming apparent I could do it (sub24). I had been gently accelerating the pace thru the canyons, and really started to push down Calif St. By the river and GG I was calculating (internally) a possible 22:45-23:00 finish assuming current accelerated pace, and realized I could 'walk it in' if I chose to. But I kept the hammer down past GG and ALT; this was to be the last 100mi 'race' and I wanted no doubts that I could no faster on this course. I had shaved every possible aid station break, and pushed solid (not all out, but close) through the canyons, ran every step out of Bath Rd, every step out of the river to GG, and ran all the way out of Robie Pt. I sat down 3 times the whole race (4 if you include the boat), and took literally no break on the far side of the river, deciding to forgo the shoe change and keep trucking. I had gotten past "can I break 24?" question and proceeded to "leave no pocket of energy reserves unexpended". When I got to the track and for the rest of my days, I wanted no thoughts in the back of my mind about coulda-woulda-shoulda as to the ultimate finishing time. Perhaps I might have taken 5min or even 10min off this year's time, but I was determined to push and shove and keep the pressure on right until the very end. I wanted to walk away from Western knowing that it was my best possible effort. (Of course, combined with that shiny silver buckle, is a good thing to know).
So we get running again, making a steady shuffle in the dark, trading "good job" with several other folks along the way. Still running just fine, but when we began the final climb up to Robie Pt I began to feel the some of last remnants of juice in my legs, along the sharp inflammation in the left hip flexor as the Aleve can't control it much longer. But up we go, keeping that pressure on, telling myself to climb, climb, climb. Do not stop, do not take it easy, squeeze out every possible second and minute you can get from here. We get some cheers from a few folks standing what turns out to be well-below Robie; kinda of a cruel joke, because you think that final aid station and the pavement is near, but it's really another 500-600m up the damn trail! But finally we emerge, David gives out a "Alabama in the house!" as we turn right and look up the street. Given the cruel nature of this course, you emerge in the city of Auburn, on a paved road, only to have a righteous ½ mi climb up that street! But heck yeah, we are running that sucker. And up comes the climbing jog, grinding that sucker down, stride by stride, inexorably looking for the top of it. Waving to the locals who are outside at 4am cheering on damn-fool runners in the wee hours. Making sure we know where we are going because neither of us is exactly familiar with the neighborhoods of Auburn! But the climb ends and the climbing shuffle turns into a genuine run. And good Lord I can hear Tropical John on the mike in the stadium, so up comes the pace. And there is the left turn over the bridge and see the light poles over the track, and up comes the pace again. Another left turn towards the finish, and now we are no-shit running; full-on, blow every remnant of the quads and energy stores. Holy shit, I can't believe this is happening! David is already preparing to peel off and let me have the track, holding out his hands for my gear. Allan is at the bottom of the street, I strip off my racing vest, headlamp and other gear and hand it all over, Just keep the glasses on so I can see all the details, drink it all in. One more left turn and there is the entrance to the track, shoot the gap between the barricades and off to the races; strong, powerful stride, I can't contain it anymore. Down the backstretch of the track, slightly teary now. So much effort, so long in prepping and waiting for this moment. And now it is here, off the turn, finish line dead ahead.